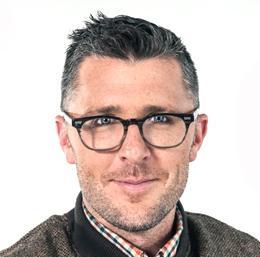 As president and chief creative at JMAC Productions Ltd., Jeremy MacPherson always takes a hands-on approach, whether he and his team are building a custom-designed kitchen for a major client, or in his Toronto studio honing exquisite handcrafted furniture.
Jeremy is hands-on in front of the camera too: He made his foray into television as co-host of The Re-Inventors, where he built and tested historic inventions. It was a perfect fit for Jeremy, tapping into his carpentry skills, as well as his background as a special effects artist for television and film, including blockbusters X-Men, Chicago, Resident Evil and The Incredible Hulk. The Re-Inventors ran for three seasons on History Television in Canada and was picked up by Smithsonian Channel in the U.S. It now airs around the globe in several languages and on Netflix.
Jeremy landed a gig as an online host with Innovation Nation TV, where he starred in a popular segment testing the latest and greatest tech devices for the home.
In the spring of 2015, Jeremy was back on screen, joining the Season One cast of W Network's big competition series, Game of Homes.
Armed with a keen eye, wry humour and easy-going attitude, Jeremy is a hit both on and off screen.
Designers and clients turn to JMAC for his creative and carpentry talents: Jeremy's custom kitchens, unique built-ins and inspiring furniture are regularly featured in top design magazines, including House & Home; Style at Home; and Cottage Life.
He recently returned to his roots in the fine arts as part of a creative collaborative for a Scotiabank Nuit Blanche special project. His larger than life custom fabricated sculptures were part of the Mimir's Well exhibit for the 2015 installment of the all night contemporary art event in Toronto.
When he's not on location or working out of his studio—based in Toronto's trendy Leslieville neighbourhood—Jeremy and his family (wife, Andrea, and three awesome kids) divide their time between Toronto and a farmhouse near Kingston.